I always think of twice-baked potatoes as little boats of awesome flavor. They are creamy, full of texture and super fancy.  Sometimes I don't want to be so fancy. I want all the flavor without all of the effort. In times like those, I make this recipe. It's much easier than regular twice-baked potatoes. If you want to make a lighter, but still tasty, version of this recipe you can swap out a few ingredients. One serving of plain Greek yogurt is a perfect substitute for sour cream and the Neufchatel 1/3 less fat cream cheese is just as good as full fat cream cheese.
Did you know 16 percent of the farms in Arkansas account for 92 percent of our state's production?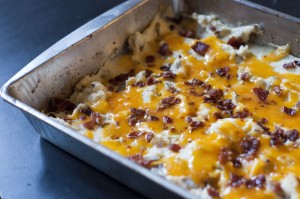 Ingredients
3 pounds russet potatoes
4 ounces cream cheese
1/2 cup sour cream
4 tablespoons butter
1/3 cup heavy cream
1 teaspoon salt
1/2 cup cheddar cheese
3 pieces cooked bacon
Instructions
Peel potatoes, and cut into large chunks. Place potatoes in a large pan, cover with water, and set on stove on high until the potatoes begin to boil. Then turn down the heat until the potatoes boil gently. Cook potatoes for 10-15 minutes or until the potatoes are soft.
Drain potatoes and place back into pot. Add butter, sour cream, heavy cream, salt and cream cheese into pot and mix with a mixer until smooth and creamy.
Place potatoes in an 8 x 8 pan, top with cheddar cheese, bacon, and place into a 350-degree oven for approximately 30 minutes or until the cheese melts.