Yesterday my friend Marissa came over for dinner. We both love the Pioneer Woman, Ree Drummond, and I wanted to add my own flare to one of her recipes. I looked through her blog and settled on this Spinach and Artichoke Pasta recipe. Then, I halved the original recipe, added cream cheese, and made a few other small changes. It was so good! Next time I make it, I'll add some baked boneless skinless chicken breast tenders. But overall, it's definitely worth making again. What are some of your favorite recipes when friends come over?
Did you know 28 percent of the U.S. milk supply is kept as fluid milk?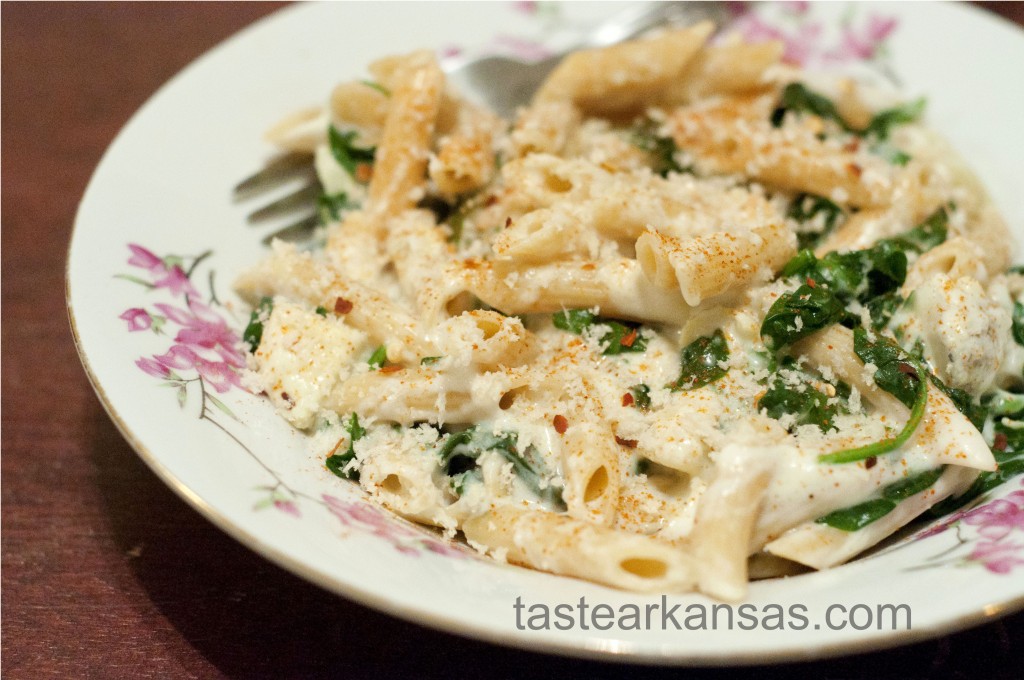 Ingredients
3 tablespoons butter
2 cloves garlic, finely minced
1 bag baby spinach
1 can artichoke hearts, drained and halved
1.5 tablespoons flour
1 cup skim milk
4 ounces cream cheese
salt and pepper to taste
1/4 cup grated Parmesan cheese
3/4 cup mozzarella or Monterey Jack cheese, grated
¼ cup low-sodium chicken broth (use as needed)
6 ounces penne, cooked until al dente
¼ cup seasoned panko breadcrumbs
crushed red pepper to taste
Instructions
Melt 1 tablespoon butter in a large pot or skillet. Add garlic and throw in the spinach. Stir it around until it's wilted, about 1 minute. Remove spinach from heat and set aside.
Add 1 tablespoon butter to the same pot and raise the heat to high. Throw in the halved artichokes, and stir it around until they get a little color, 1 to 2 minutes. Remove the artichokes from the pot and set them aside.
Reduce the heat to low. Add 1 tablespoon butter to the pot. When melted, sprinkle in flour and whisk until it's combined. Pour in milk and whisk to combine. Let it cook for 3 to 4 minutes, or until starting to thicken. Add Parmesan, mozzarella/Monterey Jack, salt and pepper. Stir to melt, and if it's overly thick, splash in chicken broth.
Add artichokes and pasta, tossing gently to combine. Gently fold in spinach, then pour the pasta into a serving bowl. Sprinkle the top with crushed red pepper and plenty of panko breadcrumbs for crunch.