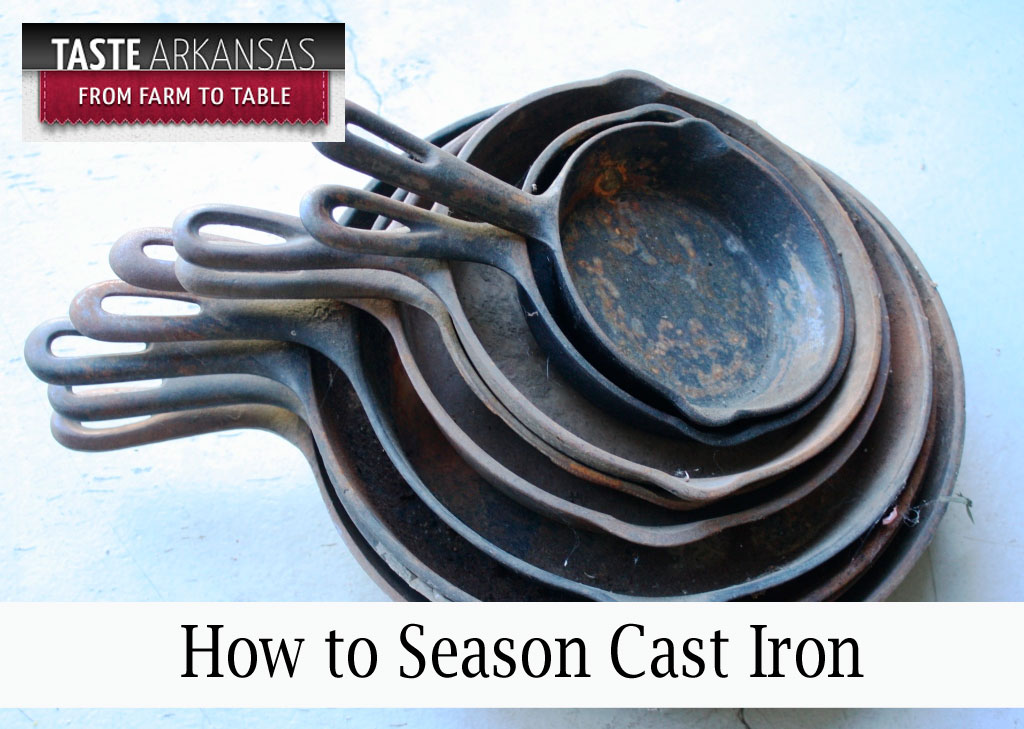 As we packed to move last year to our new state park, I counted 18 pieces of cast iron I owned – a variety of skillets, Dutch ovens and the like. I decided to gift about six pieces to friends. Yes, 18 is a bit excessive, but I'm a Southern gal through and through. The guys moving the boxes weren't as happy about my collection as I am. Many pieces were my grandparents, some were gifts from my husband (that I requested) and then there were the pieces I picked up at yard sales or Goodwill. I love me some Goodwill.
A well-cared for cast-iron skillet or Dutch oven can be handed down for generations. The natural nonstick surface that builds up is far healthier than other synthetics on the market. And it's said they even leach a trace amount of iron into your food, which is actually good for you. But most of all, great cast iron is a delight when cooking. It provides a fantastic searing surface for meats, uniform cooking temperature and easy stovetop to oven transfer. Many times, I just take it to the table and serve from it. It gives a rustic, homey feel.
Knowing how to season, use, clean and store cast iron cookware is imperative. If you don't know, your degree of Southern-ness could be challenged. No worries, Taste Arkansas is here for you. We'll give you the basics and in no time you'll be flipping perfect pancakes, stirring a golden roux and making delicious recipes and treasured memories.
First, when I say "seasoning" that means a vegetable oil baked onto the iron at a high temperature: not a chemical nonstick coating. When you season your cast iron, it creates the natural, easy-release properties. The more you cook, the better it gets. If you maintain it, your cast iron can last 100 years or more.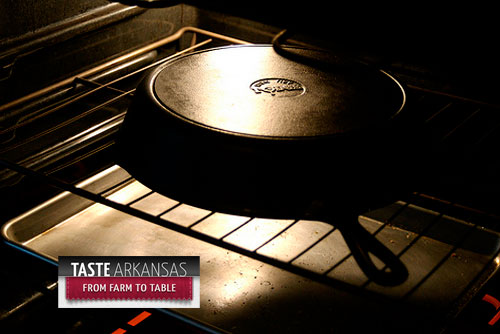 How to Season a Cast-Iron Pan:
* If your pan is new, first use a sponge to thoroughly wash it with hot water and soap. Then rinse and thoroughly dry. This is the only time you will touch it with soap.
 Preheat the oven to 325 degrees F.
 Rub the cast-iron pan, inside and out, with a thin even layer of cooking oil. Place the pan upside down on the top rack of the oven, and place a baking sheet on the lower rack below the pan to catch any drippings. (Put a layer of foil on it for easy clean up. Can I get an amen?). Bake the pan for 1 hour.
 Turn the oven off and let the pan fully cool in the oven. Don't open it until it's completely cool, resist the urge. I know. The temptation might eat you alive.
 Remove from the oven and wipe clean with a paper towel.
You'll need to re-season your cast iron periodically. You'll know it's time when it starts to look dull or rusted.
Here's a do's and don'ts on cleaning cast iron.
* DO clean cast iron immediately after using it, when it's still warm but not hot.
* DO use warm water and a sponge or stiff brush to clean.
* DO use water and coarse salt to help remove food remnants.
* DO thoroughly dry cast iron after washing.
* DON'T soak cast iron, or it's likely to rust
* DON'T put cast iron in the dishwasher
* DON'T use dish soap to clean cast iron
*DON'T try and cool hot cast iron by rinsing it in cold water. Allow it to cool on its own.
After the initial seasoning, you really just need to use the skillet a lot to help reinforce the layer. Bacon is your skillet's best friend. Go grab some Petit Jean Meats bacon and make a delicious BLT. Repeat.
If you don't own any cast-iron, I personally think it's a great addition to your kitchen. Don't be intimidated by it. I recommend starting with a 10-inch or 12-inch pan.
Or, call me; you can borrow some of mine.
The Park Wife
Stay tuned, this Thursday Ashley Ederington shares a Dutch Oven Peach Cobbler recipe.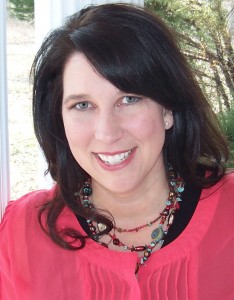 Stephanie, aka The Park Wife, is a tribe builder. She is the founder of Arkansas Women Bloggers (ARWB), an online community designed to gather, grow, and connect social media influencers in our state. Considered an old-timer in the blog world, since 2005 she has written what she hopes is a love letter to her children on her lifestyle blog, The Park Wife. Raised in the debutante world of Mississippi, she married a hunky park ranger and moved to Arkansas 15 years ago and has fallen in love with the state. She loves gardening, porch swings, a beautifully set table, a delicious meal surrounded by great conversations, their cabin in the woods and monograming everything that is not nailed down. She is a devoted wife and fun-loving, homeschool mom to two extraordinarily cool little gentlemen and is fortunate enough to live on one of Arkansas's premier state parks.