I quickly find myself getting bored with recipes, so I'm always trying to find new ways to spice things up. I love a well-seasoned, baked pork chop, but sometimes I need a little something extra. I wasn't sure how a recipe like this would translate to pork chops, but it was fantastic. There was just enough crunch and flavor to the topping. The pork chops were perfectly cooked and juicy. This definitely was a standout recipe I'll be making again.
Did you know more than 1.8 million hogs are raised in Arkansas each year?
Ingredients:
1/2 cup mayonnaise
1/4 cup grated Parmesan cheese
4 boneless pork chops
4 teaspoons Italian seasoned dry bread crumbs 
Directions:
1. Preheat oven to 425° F.
2. Combine mayonnaise with cheese in medium bowl. Arrange pork chops on baking sheet or other baking dish. Evenly top with mayonnaise mixture, then sprinkle with bread crumbs.
3. Bake 20 minutes or until pork is thoroughly cooked.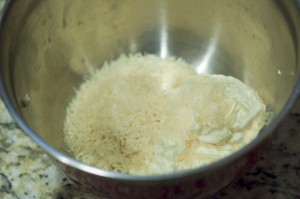 Combine your cheese and mayo in a small bowl. Seriously, the easiest topping ever.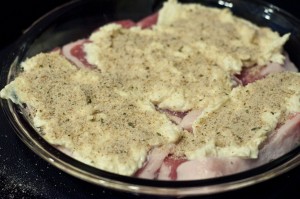 Evenly top your four pork chops with the mayo mixture. Then sprinkle with bread crumbs.
Bake uncovered until pork chops are thoroughly cooked.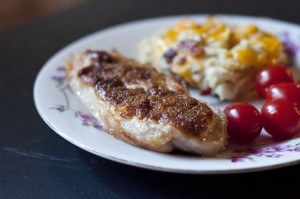 I loved how this recipe turned out. I'll definitely make it again.