You really can't go wrong with a baked chicken tender. I had to work late this week on a project and really needed a fast recipe for comfort food. These tenders hit the spot. I even made some honey mustard by combining 1 tablespoon of mustard with about 1 teaspoon of honey and a sprinkle of sugar.
Did you know more than 6,000 farms in Arkansas produce some kind of poultry?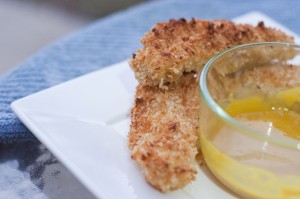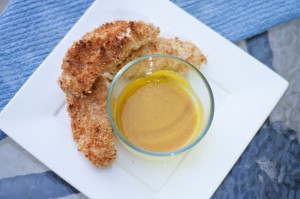 Ingredients
1 cup panko breadcrumbs
1 tablespoon Emeril's All Purpose Seasoning
½ cup Parmesan, shredded
1 pound boneless, skinless chicken tenderloins
1 egg
¼ cup milk
2 teaspoons hot sauce
Directions
Preheat oven to 375 degrees. Coat a baking dish with cooking spray. Combine bread crumbs, seasoning and Parmesan in a shallow dish. In a separate dish, combine egg, milk and hot sauce.
Gently coat each tenderloin first in the egg mixture, then in the breadcrumb mixture. Place coated tenderloins in baking dish and bake in preheated oven for 12-15 minutes or until the interior temperature reaches 165 degrees.