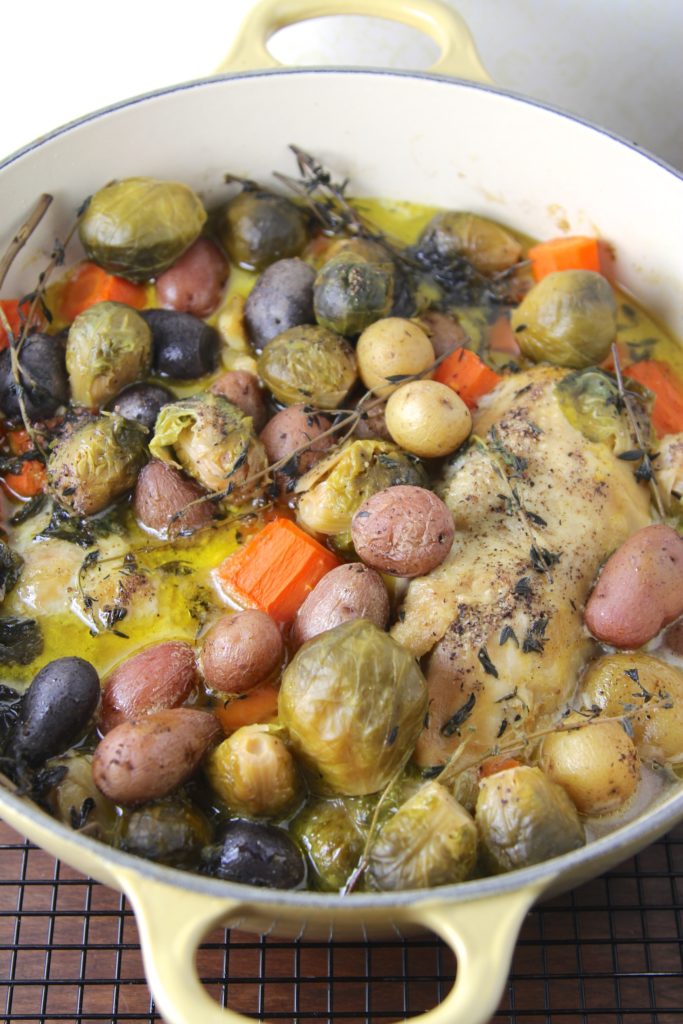 I have a ridiculous amount of cookbooks. So many that I'm considering starting a library and issuing library cards. I'm not obsessed with the recipes; mostly it's for the photos.
I eat with my eyes. Do you?
One of my favorite recipe images is a one-pot dish. Trying to decipher its ingredients and determining how the photographer captured the essence of the dish through steam, herbs and bubbling deliciousness gets me every time. Throw in a generations-old Dutch oven pot and farmhouse character and I may just get lost for a while.
Besides their beauty, one-pot dishes are efficient. In theory, you only have one dish to clean, serve with and its storage is self-contained if there are leftovers.
Bone-in chicken or bone-in beef make excellent one-pot dish main ingredients. The bones contribute to the dish, adding flavor nuances ordinary spices cannot achieve. Then, layering with beautiful herbs helps create a living-color masterpiece.
This recipe calls for specific vegetables, including Brussels sprouts, carrots and cipolline onions. Honestly, use what you've got. Quarter sweet onions, throw in some leeks (clean them thoroughly), chopped celery, add turnips, etc. A base of chicken broth and a touch of cream will make this one-pot chicken dinner a head turner.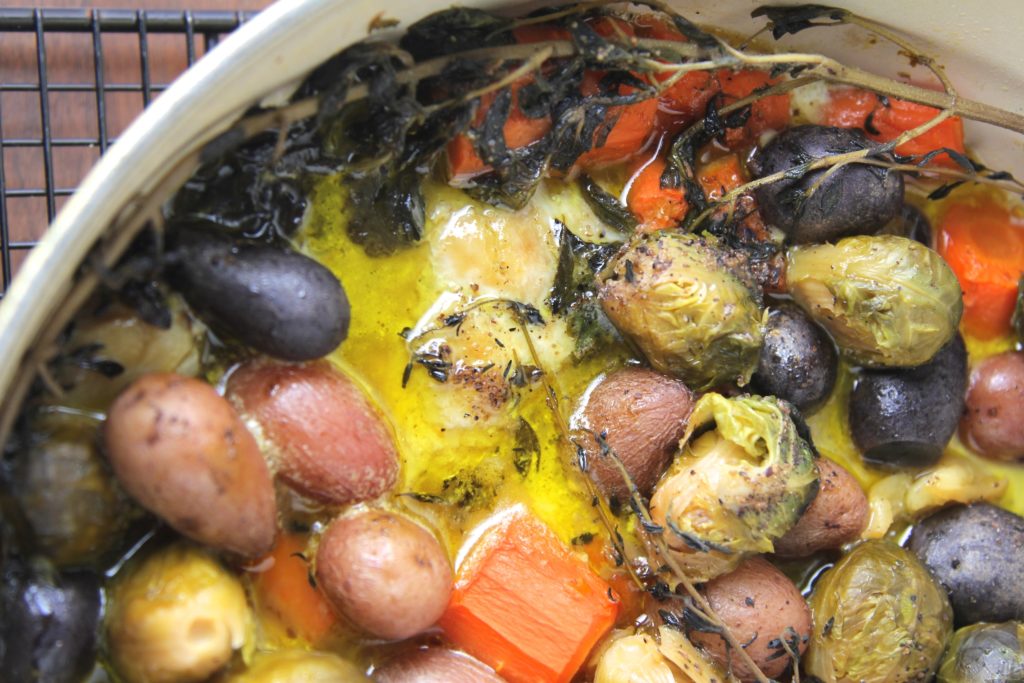 ONE-POT CHICKEN WITH VEGETABLES
Serves 4-6
Ingredients
2 tablespoons extra-virgin olive oil
2 chicken thighs with bones and skin
1 chicken breast with bone and skin
bag of cipolline onions, approximately 10
4 carrots, peeled and cut into one-inch bites
2 cups of baby potatoes (approximately 20)
2 cups of Brussels sprouts, cleaned and trimmed (approximately 20)
1 large spring of oregano
10-12 small springs of fresh thyme
4 garlic cloves
2 cups unsalted chicken broth
1 teaspoon sea salt
½ teaspoon pepper
Instructions
1. Add olive oil to Dutch oven pot and set on medium high heat.
2. Add chicken to pot and brown on both sides, approximately 10 minutes and turn down heat to low.
3. Peel onions and carrots and tuck around chicken.
4. Tuck in potatoes, oregano, thyme and garlic around chicken.
5. Pour broth over chicken and vegetables and sprinkle with salt and pepper.
6. Cover and cook over medium heat for 40 minutes, add cream, and turn down heat to low for additional 10 minutes. Confirm that internal temperature of chicken breast is 165 degrees. Turn off heat and let sit for five minutes and serve.
Arkansas Women Blogger member Lyndi Fultz writes about living and eating well from her life in beautiful northwest Arkansas at nwafoodie. Much of her blogging inspiration comes from this gem of a place, which she refers to as the proverbial land of milk-and-honey. Read more related to cooking, entertaining, gadget suggestions, ingredient explorations, local finds, local restaurant treasures, kitchen tour spotlights, and always with a healthy and simplistic approach.