When I look at the kitchen calendar in December, it's all there. Holiday gatherings and children's Christmas programs are penned in, permanently. My grocery list contains ingredients for upcoming potlucks and parties, and every time I glance sideways at social media, new and improved recipes pop up on Pinterest.
In addition to cooking for special events, I'm feeding a family of five three meals a day, plus snacks. The festive season slows down for no one.
In my childhood, the holiday season meant my mom would be making a breakfast strata for brunch celebrations and holding some back for our Saturday mornings. It also meant lots of church members fellowshipping for hours while rolling hundreds of sausage balls for the annual stand-up breakfast.
Now that I'm responsible for feeding a crew, I've taken my cue from the cooks of Christmas past.
When December rolls around, I try to roll with it, tending to rely less on gingerbread cookies and candies than on meals I can bring to a holiday party and use to feed my family. Cook once, and eat a whole bunch of times, I say.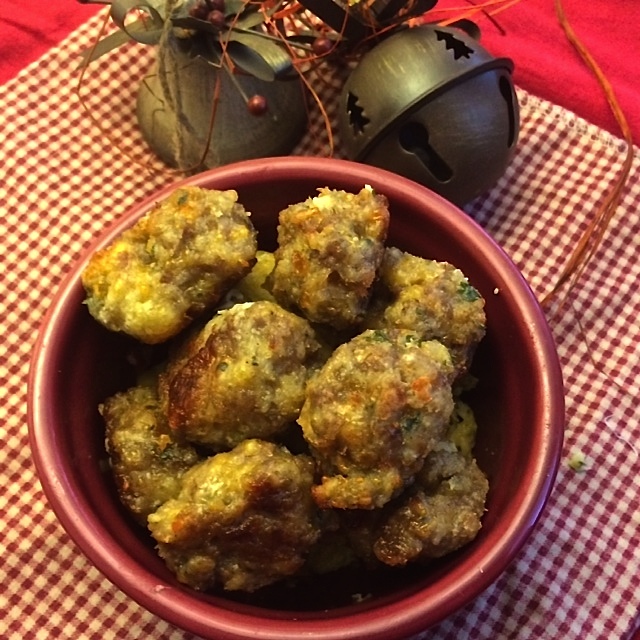 Sausage Balls
Ingredients
2 lbs. good quality pork sausage, uncooked
2 cups Bisquick (or similar baking mix)
1 ½ cups sharp cheddar cheese, grated
½ cup Parmesan cheese, grated
1 cup milk
¼ cup parsley flakes
Instructions
* Mix all ingredients together using hands. Form into one-inch balls and place close together on a baking pan lined with parchment paper.
* Bake at 350 degrees until cooked thoroughly (25-35 minutes or internal   temperature of 160 degrees Fahrenheit.
Tips
Don't get chintzy with the sausage. Check the local meat market to see what your butcher has spiced up. If you make sausage balls with inferior sausage, you will get inferior sausage balls.
Cook to a temperature of at least 160. If you like your sausage balls a bit crispy on the outside, put them back in the oven for another 10 minutes. Keep in mind you'll likely be heating up the sausage balls before serving.
You can really crowd these together on a cooking sheet, and pull apart any that stick together after cooling. If you can devote a couple of hours to the task, you'll whip out a few hundred or so.
When sausage balls and pan have cooled, pull out the parchment paper from underneath and freeze. Place frozen sausage balls in zipper storage bags in the freezer. If you want to be ultra-organized (and keep out sneaky hands), label each bag with the event where you'll be serving sausage balls.
Sausage balls can be eaten cold—perfect for school lunches and hectic mornings.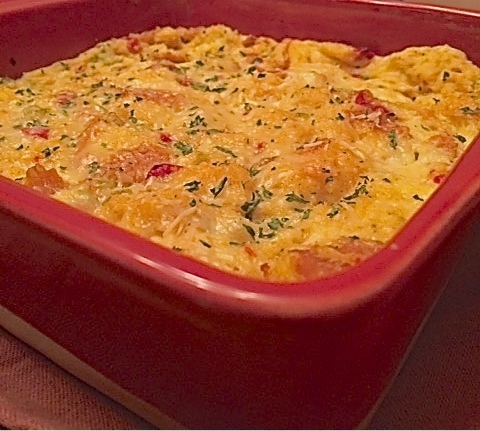 Breakfast Strata
1 lb. good quality sausage
8 to 10 eggs
Approximately 6 slices thick, hearty bread like rustic French bread or seasoned Italian bread
2 cups whole milk
1 cup cheddar or Parmesan cheese
1 tablespoon mustard
¼ cup roasted green chilies, chopped
1 teaspoon salt
1 teaspoon pepper
a little bit of butter (for baking dish)
Brown the sausage and drain. Beat eggs, milk and mustard together. Tear bread into small pieces and add to mixture. Add cheese, salt, pepper, and sausage and stir. Pour mixture into buttered 9 x 13 dish and refrigerate overnight. Bake at 350 degrees Fahrenheit for 35 to 40 minutes.
Variations
For vegetarian strata: substitute sausage with sautéed onions, chopped roasted red peppers, another ¼ cup of green chilies, and a few generous shakes of salt and pepper.
If you're substituting non-dairy milk, add one cup of seasoned Panko bread crumbs to the recipe to help thicken the consistency. This recipe tastes wonderful with almond milk.
Other yummy ingredients you can add to strata include summer sausage, bacon and mushrooms.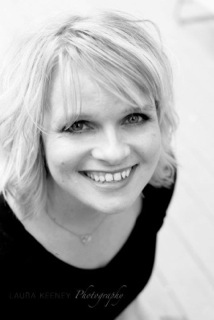 Arkansas Women Bloggers member Rhonda Franz is a writer, home operations specialist, and domestic chef. She lives with her husband and three sons in northwest Arkansas, where she cooks up double recipes and packs lots and lots of lunches.