The Irish love their beer. With my Irish heritage, I'm no exception. I love beer, and I especially love to cook with beer. It adds a level of flavor that you can't find elsewhere. I can honestly say I've never used beer in a dessert before; usually I use it in a savory dish. I decided, with St. Patrick's Day on the horizon, it was time to try this Chocolate Guinness Cake. I was not disappointed. This cake is moist, decadent and simply incredible. Try it soon, even if you aren't Irish.
Did you know Anheuser-Bush is the largest purchaser of Arkansas grown rice? Rice is used in the production of Bud Light. 
Ingredients
1 cup Guinness (dark beer)
½ cup butter, cubed
2 cups sugar
3/4 cup baking cocoa
2 eggs, beaten
2/3 cup sour cream
3 teaspoons vanilla extract
2 cups all-purpose flour
1-½ teaspoons baking soda
Topping:
8 ounces cream cheese, softened
1-½ cups powdered sugar
½ cup heavy whipping cream
 Instructions
Grease a 9 inch springform pan, and line the bottom with parchment paper; set aside.
In a small saucepan, heat beer and butter until butter is melted. Remove from the heat; whisk in sugar and cocoa until blended. Combine the eggs, sour cream and vanilla; whisk into beer mixture.
Combine flour and baking soda; whisk into beer mixture until smooth. Pour batter into prepared pan.
Bake at 350° for 45-50 minutes or until a toothpick inserted near the center comes out clean. Cool completely in pan on a wire rack. Remove sides of pan.
In a large bowl, beat cream cheese until fluffy. Add confectioners' sugar and cream; beat until smooth.
Remove cake from the pan and place on a platter or cake stand. Ice top of cake so it resembles a frothy pint of beer. Refrigerate leftovers.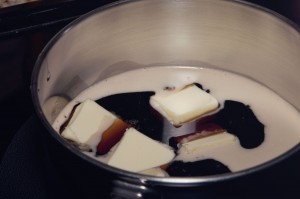 Look at that dark luscious beer and creamy butter.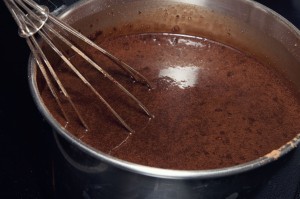 After all that butter is melted, add your cocoa powder and sugar. Combine your eggs, sour cream and vanilla in a separate bowl. Then slowly add this mixture in to that bowl.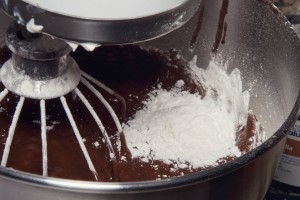 After mixing well, very slowly add in your flour. I did 1/4 cup of flour at a time.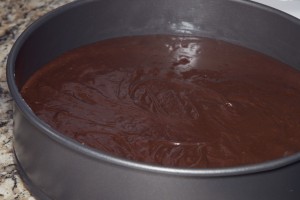 Pour it into your greased springform pan. I didn't have any parchment paper and mine turned out just fine.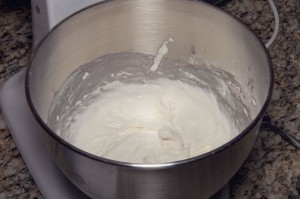 While my cake was baking, I whipped my frosting. In hindsight, I should've waited to do this while the cake cooled. I got too excited.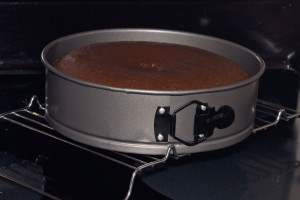 Oh my gosh! I could barely contain myself long enough to let this cool.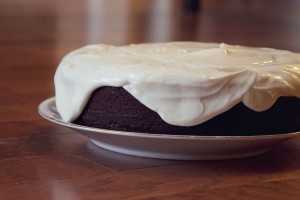 TA-DA!! Isn't it beautiful? The frosting is supposed to kind of look like the foamy head of a beer. Delicious!