With the onset of warm temperatures, be aware of the spread of a potentially contagious condition often referred to as "Grilling Fever." Beef consumers everywhere are suffering from  the spring/summer passion that is forcing them to break out their grills. They're often seen scrubbing the winter sleepiness from the grates, dusting off grilling tongs and donning aprons. One symptom forces them to purchase succulent steaks like ribeyes and tenderloins and cook them to perfection along with juicy hamburgers topped with cheese and their favorite condiments. Most health professionals agree the only way to treat this fever is to partake in the consumption of said beef cuts until their stomachs and minds are satisfied. The condition runs its course throughout Memorial Day, Fourth of July and Tailgating Season and typically doesn't subside until snow is on the ground. Then, and only then, is there a chance of recovery from the Grilling Fever, though some consumers never fully recover.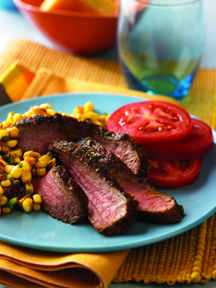 Ingredients
2 boneless beef chuck shoulder steaks, cut ¾ inch thick (8 to 10 ounces each)
½ cup prepared sweet barbecue sauce
3 tablespoons minced green onion
2 tablespoons finely chopped fresh cilantro
2 medium jalapeño peppers, minced
1 cup frozen corn
Instructions
Combine barbecue sauce, onion, cilantro and peppers in small bowl. Cover and refrigerate 1/4 cup for salsa. Place beef steaks and remaining barbecue sauce mixture in food-safe plastic bag; turn steaks to coat. Close bag securely and marinate in refrigerator 6 hours or as long as overnight, turning occasionally.
Remove steaks from marinade; discard marinade. Place steaks on grid over medium, ash-covered coals. Grill, covered, 8 to 12 minutes (over medium heat on preheated gas grill, 9 to 12 minutes) for medium rare (145°F) to medium (160°F) doneness, turning occasionally.
Meanwhile combine corn and reserved 1/4 cup marinade in small bowl; season with salt, as desired. Set aside.
Carve steaks into thin slices; season with salt and pepper, as desired. Serve with corn salsa.