'Tis the season for pumpkin. Is anyone else getting that feeling? It's just so good, warm and rustic, not to mention beautiful. Whether we're talking the bumpy pumpkins (yes, that's the official name) that you set on your porch or pie pumpkins baked and pureed to perfection, the colors and textures of pumpkin just can't be beat.
Have you ever made your own pumpkin puree? While the canned stuff is good and easy to use, there's just so much flavor and reward in making your own. Plus you can make more than a single pumpkin at once and stock up on the goodness in your freezer for times when you just can't live one more moment without a great pie or pumpkin bread.
I'll admit when it comes to crusts I'm typically a store-bought type of gal. I have tried my hand at making homemade crust, but no matter how simple someone says it is, I still end up wishing I'd just purchased one instead. I love this gingersnap crust, because it's simple, flavorful and truly no-fail; not to mention the amazing marriage of flavors that come from the crust and pie filling.
I hope you and yours enjoy this pie not just on Thanksgiving but during this entire holiday season.

Gingersnap Pumpkin Pie
Makes one 9-1/2 inch pie
Ingredients:
For the crust:
• 6 ounces store-bought gingersnap cookies
• 2 tablespoons butter, melted
• 2 tablespoons brown sugar
• pinch of salt
For the pie filling:
• 2 cups pumpkin puree (recipe for homemade below)
• 3/4 cup granulated sugar
• 2 teaspoons pumpkin pie spice
• 2 large eggs, lightly beaten
• 1-1/2 cups half-and-half
For the pumpkin puree:
• 1 pie pumpkin (or more if desired)
• 1 tablespoon warm water
Directions
For the pumpkin puree:
1. Preheat oven to 375.
2. Wash and dry the outside of the pumpkin.
3. Carefully cut in half and remove the seeds.
4. Place on a baking sheet lined with foil, cut side facing up.
5. Roast at 375 for one hour, or until the flesh is very soft.
6. Let the pumpkins cool for about 10-15 minutes, then remove the skins. It should be soft enough that it just comes right off.
7. Place the pumpkin flesh in a food processor with the water and pulse to chop, then process until completely smooth. You may need to scrape the sides down to get all of the pumpkin pureed.
For the crust:
1. Turn oven temperature to 350.
2. In a food processor, combine the gingersnap cookies, butter, brown sugar and salt.
3. Pulse to chop, then process to completely grind the cookies. There should be no large chunks of cookie left.
4. Dump the mixture into a 9-1/2 inch (or 9 inch) pie pan and press into an even layer on the bottom and up the sides. Sometimes a measuring cup can help with this step.
5. Bake at 350 for 10 minutes, then remove and let cool slightly before adding the filling.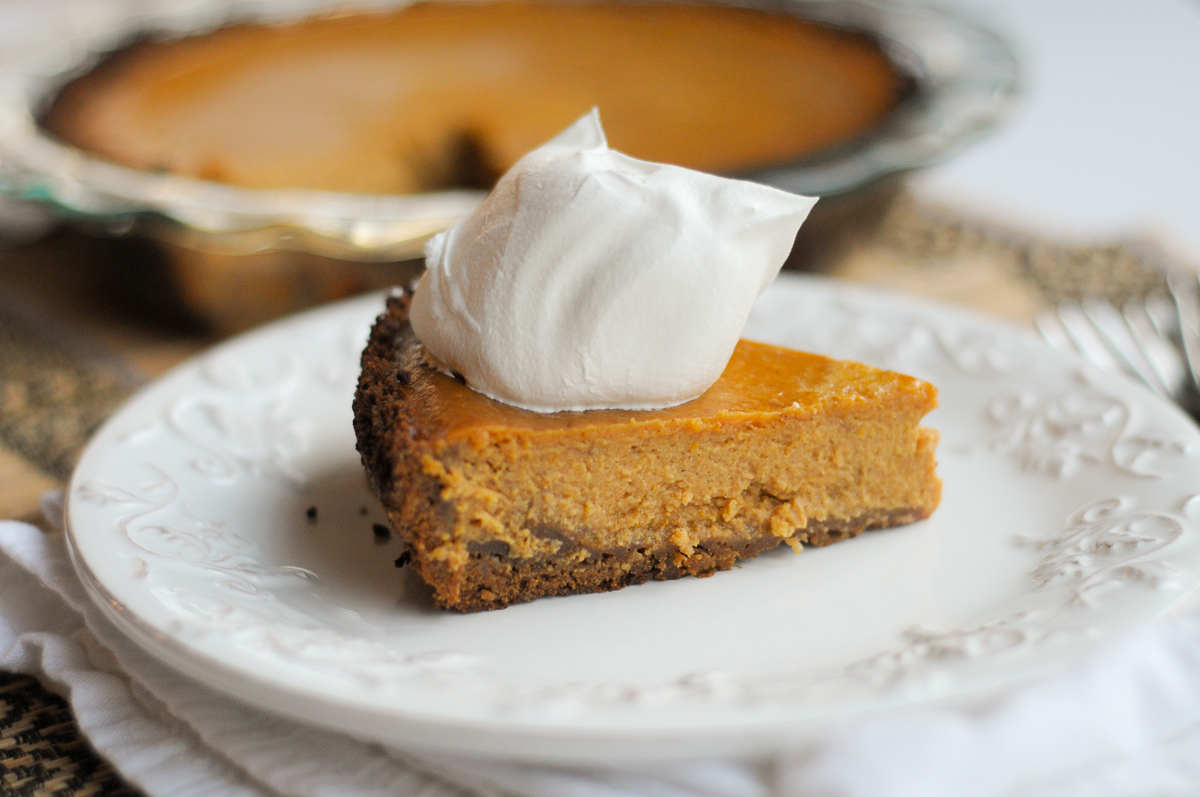 For the pie filling and pie:

1. Turn the oven temperature to 425.
2. In a large bowl, whisk together all pie ingredients until smooth and creamy.
3. Pour the batter into the prepared crust.
4. Bake at 425 for 15 minutes, then turn the temperature down to 350 and bake an additional 40-50 minutes or until a toothpick inserted comes out clean.
5. Let cool completely on the counter, refrigerate if desired.
6. Serve cold or at room temperature with whipped cream or ice cream.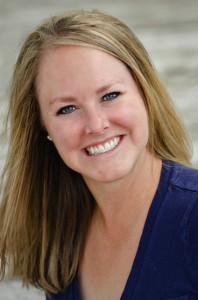 Arkansas Women Blogger member Heather Disarro is a food-centric lifestyle blogger who is passionate about embracing the beauty that surrounds us in our everyday lives. She is a Texan living the expat life in central Arkansas with her husband, son and two massive dogs. Heather writes her blog, Heather's Dish, from an office filled with dust, dog fur, toys and plenty of love, grace and music. She revels in the opportunity to bring the love of cooking to the world as a way to love others well!