Carbs are hated by dieters and loved by many tummies. I'm always trying to eat healthy, however, I always make room for a special treat now and then. Sharp, rich cheese, warm crusty bread, butter, three ingredients banned from many health conscious menus. I vote we combine these three delectable ingredients. You only live once after all. It would be a shame to go your whole life without experiencing this Garlic Cheesy Bread. Try it! I was afraid of making bread from scratch too, but don't worry I survived. You will too.
Did you know that honey bees are the number one pollinator of agriculture crops?
 Ingredients
1 cup warm water
1 tablespoon honey
1 envelope active dry yeast (2 1/4 teaspoons)
1 teaspoon salt
3 cups bread flour
olive oil
⅓ pound sharp white cheddar
½ cup garlic butter
Instructions
In a large bowl, stir water, honey and yeast together. Let yeast proof 5 minutes. Once you know yeast is active, stir in salt and the flour in 1/4 cup increments. If you are using a stand mixer, be sure not to exceed a speed higher than a 2 or "stir." Once dough starts pulling away from the sides and the bowl seems to be pretty clean, set a timer for 5 minutes and walk away. Let the machine knead the dough. After 5 minutes, dough should be smooth and tacky but not leave any dough on your fingers when touched.
Grease the bowl and the dough. Cover with plastic wrap or a kitchen towel and let rise 1 hour or until doubled in size.
Punch down dough and cut into two equal portions. Form into two long baguettes the length of the cookie sheet. I twisted mine because it looked cool. Cover with plastic wrap and rise 30 minutes. Start to preheat oven to 400 degrees F, and place dough close to the oven where it's nice and warm.
Once oven is preheated, remove plastic wrap, from the dough reduce oven to 350F, put the bread into the oven and bake 20 minutes.
In the meantime, slice the cheese into thin slices and melt the butter. If you don't have special garlic butter, do what I did and mince some garlic and throw it in regular butter with your favorite dried herbs.
Pull loaves of bread out of the oven after 20 minutes and brush with the melted garlic butter. Bake another 5-7 minutes or until bread begins to turn a golden brown. Remove from oven and cool 15 minutes.
Cut 1-inch slices 3/4s of the the way through the loaves. Brush garlic butter between each slice and fill with a slice of cheese. Bake another 3-5 minutes or until cheese is completely melted. Serve immediately.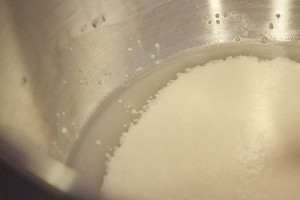 This is how you know your yeast is active. It foams up!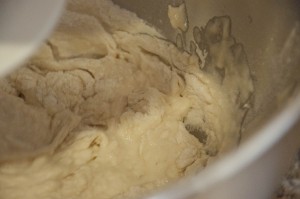 You want to add your flour slowly! Be patient.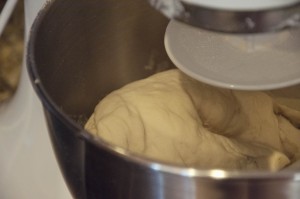 The dough is coming together. Now let your mixer knead it for you.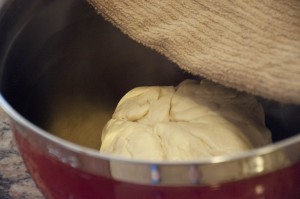 Grease your bowl and dough ball, then let it rise.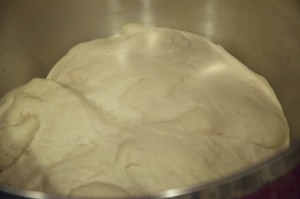 Your dough ball has doubled in size, now for the fun part: punch it! Then form into two loaves and let them rise.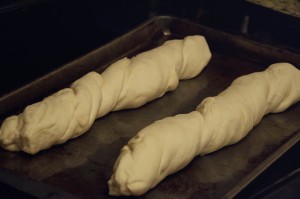 Ready to bake.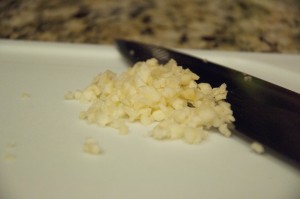 Mince the garlic if you don't have garlic butter.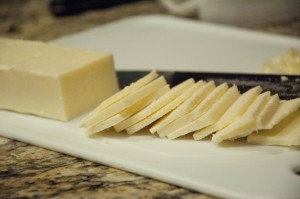 Slice up the cheese and try not to eat the entire block. I wanted to.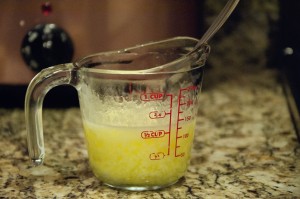 Melt the butter, add garlic and various other herbs.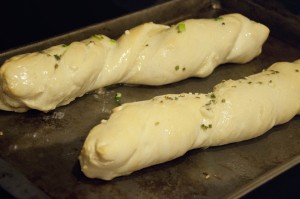 Pull the bread out and pour the butter all over it. Then place back in the oven.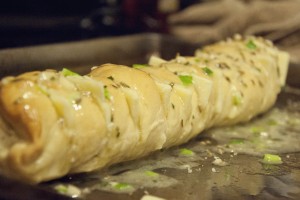 Once its golden and cooled, make your slices and slather them with butter then stick cheese in them. I only used one of my loaves to make the cheesy bread.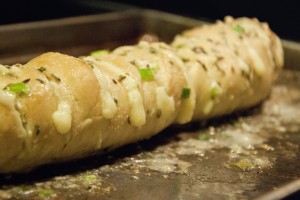 After a little baking you get this beautiful hunk of cheesy, buttery carbs.
I mean seriously! Look at that gooey cheese!