Compiled by The Park Wife
Six tips to a winning farmers market experience.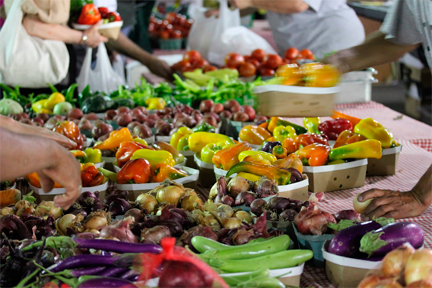 It's farmers market season with many already open and more to soon as farmers' fields are productive. I've grown food for farmers markets, run them and even served a few years on the Arkansas Farmers' Market Board. So I've gained a little wisdom (and a lot of farmer friends) and want to share six tips to enhance your farmers marketing experience.
1.  Know your farmer. Know your food. Spend a few minutes chatting at your local farmers market. It takes tremendous dedication to both science and art (not to mention dirty feet and nails) to turn out beautiful produce on a small farm. And the time spent inquiring about the results of that dedication yields useful information and infectious enthusiasm. You get to look the farmer in the eye and ask anything about how the food was grown. That doesn't happen in a supermarket. Do it!  Ask away: about a food you don't recognize, how to cook it and whether it's coming in or out of season. Find out what the farmer expects to bring to market next week, so you can plan ahead.
2.  The early bird gets the worm … and best tomatoes. The season's first blueberries and finest tomatoes disappear the first hour the market is open. If you want something in particular, wake up early. Drink your coffee on the way.
3.  Go big: If it's in season, buy as much as you can. You'll enjoy the best flavors and best prices when you buy a lot of whatever is at its harvest peak. How to use it all up? Try new recipes with favorite vegetables or learn the lost art of preserving food.
4.  Try something new each week. A benefit of farmer's markets is the increased ability to stay within your comfort zone if you so choose. But if you're lucky enough to visit a farmers market with a selection of unusual produce, try a new food each visit? At best, you'll discover a new love. At worst, you'll know better next time.
5.  BYOB – Bring your own bag and maybe a cooler. That reusable canvas tote is good for the earth but also helps the farmers by not cutting into their profit margins. If your market sells eggs, cheese or meat, bring a cooler. The only thing worse than passing up a dozen beautiful eggs, because you're not prepared, is to bring them home anyway and they ruin.
And my favorite.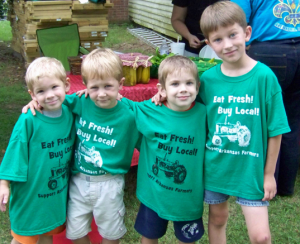 6.  Volunteer at the market. Volunteering at the market not only gives you a better understanding of the workings of a farmers market and farm-to-market relationships, you also enjoy an opportunity to spend time outside volunteering for a good cause. It helps reduce the substantial workload faced by the market manager. A good market manager makes a market. Help them do their job. They usually are doing it for free. It helps make your local market stronger, and you might earn some free fruit, vegetables or other goodies.
Celebrate your market and your local farmers. Buy fresh, buy local and buy in season.
Watch Taste Arkansas for many wonderful recipes from the Farmers Market!