When it comes to dinner, we like to keep things simple. Simple usually means a slow cooker meal, grilling out when the weather permits, or otherwise only spending 30-ish minutes on meal preparation. And it's good; we don't go hungry and pretty much always enjoy what we're eating.
But, every now and then, it's nice to get a little fancy, whether it's a date night in or a dinner party, this is where we really like to try new ingredients. Belgian endive is one of those things; it's pretty delicious roasted in halves in the oven with just salt, pepper and olive oil, but for a real bang aesthetically, it makes the cutest little lettuce cups that you can serve all kinds of delicious mixtures in!
For this particular recipe, I kept with the simplicity we always enjoy letting the flavors and textures shine through. I made as easy Meyer lemon and pancetta vinaigrette to toss the apples in, but you could use any citrus you enjoy. Orange juice (fresh, mind you) would be great, lending some sweetness to the bitterness of the endive. As for pancetta, if you can't find it near you then you could certainly use bacon – I see no good reason to not make that substitution – because bacon is, as we all know, heavenly.
Try this for an appetizer at your next dinner party, or for just an afternoon snack. I hope you enjoy making and eating it as much as we did!

ENDIVE BOATS WITH PANCETTA, APPLES, AND MEYER LEMON VINAIGRETTE
Serves 3-4
Ingredients:
2 cups chopped pancetta (cubes should be about 1/4-inch chop)
2 medium Belgian endive, bottom cut off and leaves removed
1 large sweet apple
1 Meyer lemon (or other favorite citrus)
1/2 teaspoon Dijon mustard
1/2 teaspoon honey or agave
1/4 teaspoon black pepper
Directions:
Place the chopped pancetta (or bacon, if using) in a cold skillet and turn the heat up to medium-low.
Render the pancetta until cooked through and crisp.
Chop the apple into bite-size pieces (about 1/2-inch chop) while the pancetta is cooking.
When the pancetta is done, use a slotted spoon to remove the pancetta to a paper towel-lined plate, reserving 2 tablespoons of the rendered fat.
VERY carefully, squeeze the Meyer lemon juice, about 2 tablespoons, into the hot pan, along with the Dijon mustard, honey and black pepper.
Using a whisk, continue to cook and whisk the mixture until completely combined.
Remove from the heat and toss the apples with the dressing.
To serve, evenly distribute the apple mixture to the endive leaves.
Sprinkle evenly with the pancetta.
Serve warm or at room temperature.

Arkansas Women Blogger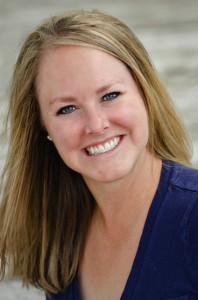 member Heather Disarro is a food-centric lifestyle blogger who is passionate about embracing the beauty that surrounds us in our everyday lives. She is a Texan living the expat life in central Arkansas with her husband, son and two massive dogs. Heather writes her blog, Heather's Dish, from an office filled with dust, dog fur, toys and plenty of love, grace and music. She revels in the opportunity to bring the love of cooking to the world as a way to love others well!