Raise your hand if you like to experiment in the kitchen and tease ingredients into deliciousness. I believe it doesn't matter whether you're an experienced chef, an intermediate cook or a novice with your first sauté pan. It's the moment, oh that wonderful moment, when you realize time has stopped, because you're in the sheer joy of creation.
I love that moment.
This is my fifth year blogging, and it has taught me how to be a better cook. Scratch that. It has taught me to have a better understanding of the amazing touch-points of food. It has allowed me more time to practice and experiment. I scrolled back through the hundreds and hundreds of posts and take pride seeing the growth from an unbalanced life of restaurant frequency to one of frequent home-cooked kitchen confidence.
What about you? If you're thinking about starting a food blog, do it. Tell me about it, because I want to see you grow. I want to hear about your journey to cooking more often with whole foods, preparing pantry staples from scratch, expanding your herbs and spice knowledge, discovering the science and magical complexities of everyday foods, growing your own foods, expanding your farmers market purchases and the excitement of hearing about your moments.
We all need more of those moments.
Here's a recipe that allows just enough experimentation to keep it interesting. Pulsing the cauliflower into a "rice" and roasting it with garlic brings out an incredible nuttiness that joins perfectly with everyday rice, elevating it to awesomeness. Score extra credit if you use Arkansas grown rice.
Cauliflower and Rice Croquettes
Makes 6 patties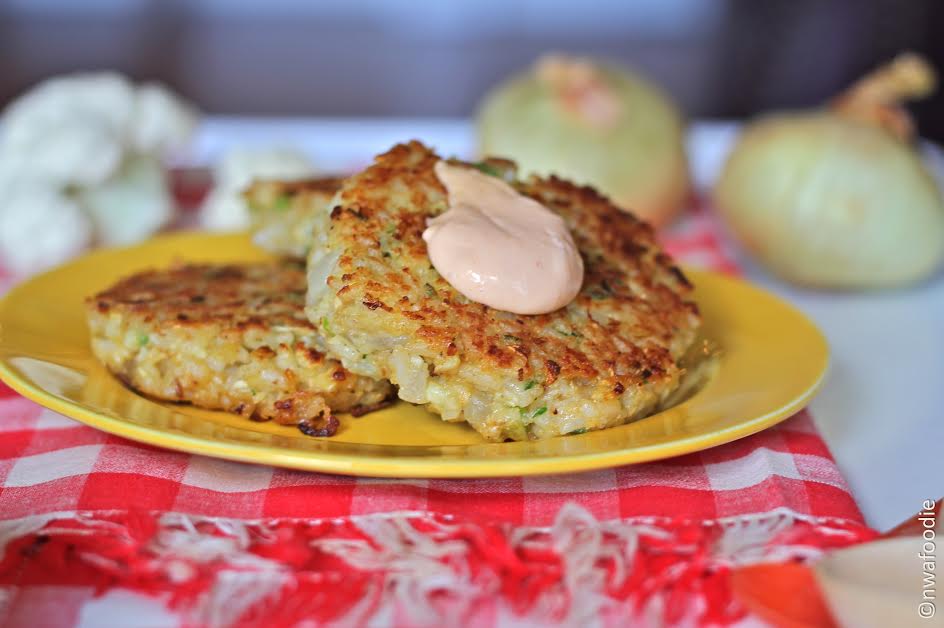 Ingredients
1 head of medium-size cauliflower
1 teaspoon olive oil
2 cloves minced garlic
4 minced scallions
1 cup cooked white rice
3 tablespoons grated Parmesan
½ teaspoon pepper
1 teaspoon sea salt
1/3 cup all-purpose flour
¼ cup Panko bread crumbs
¾ teaspoon cumin
¼ teaspoon paprika
1 minced small Vidalia sweet onion
1 tablespoon olive oil
¼ cup water
1 egg, whipped lightly
4 tablespoons of butter
Instructions
Preheat oven to 350 degrees on Roast.
Cut cauliflower and pulse in food processor until it resembles a "rice" consistency.
Toss cauliflower with 1 teaspoon olive oil and 1 clove minced garlic in a large mixing bowl.
Spread cauliflower-rice on a foil covered sheet plan and roast for 15 minutes or until bits of brown forms on edges of cauliflower-rice.
While cauliflower-rice is roasting, mix the following ingredients in the mixing bowl: scallions, white rice, Parmesan, pepper, sea salt, flour, 1 clove minced garlic, Panko, cumin and paprika. Fully incorporate.
Mince onion and sauté on medium heat with 1 tablespoon of olive oil until translucent. Add to dry mixture in bowl.
Remove cauliflower-rice from oven and add to dry mixture.
Add eggs and water to dry mixture and fully incorporate.
Add butter to medium/high-heat skillet and wait for it to calm down (that just means let it finish the melting dance and sizzle). Form and add three patties to skillet and cook thoroughly on each side. Repeat with butter and remaining three patties.
Serve with Sriracha Mayonnaise for extra oomph.
Sriracha Mayonnaise
Ingredients
¼ cup mayonnaise
¼ teaspoon Sriracha sauce
Instructions
Mix until smooth. If needed, add more Sriracha to taste.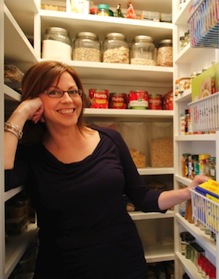 Arkansas Women Blogger member Lyndi Fultz writes about living and eating well from her life in beautiful Northwest Arkansas at nwafoodie. Much of her blogging inspiration comes from this gem of a place, which she refers to as the proverbial land of milk-and-honey. Read more related to cooking, entertaining, gadget suggestions, ingredient explorations, local finds, local restaurant treasures, kitchen tour spotlights, and always with a healthy and simplistic approach.