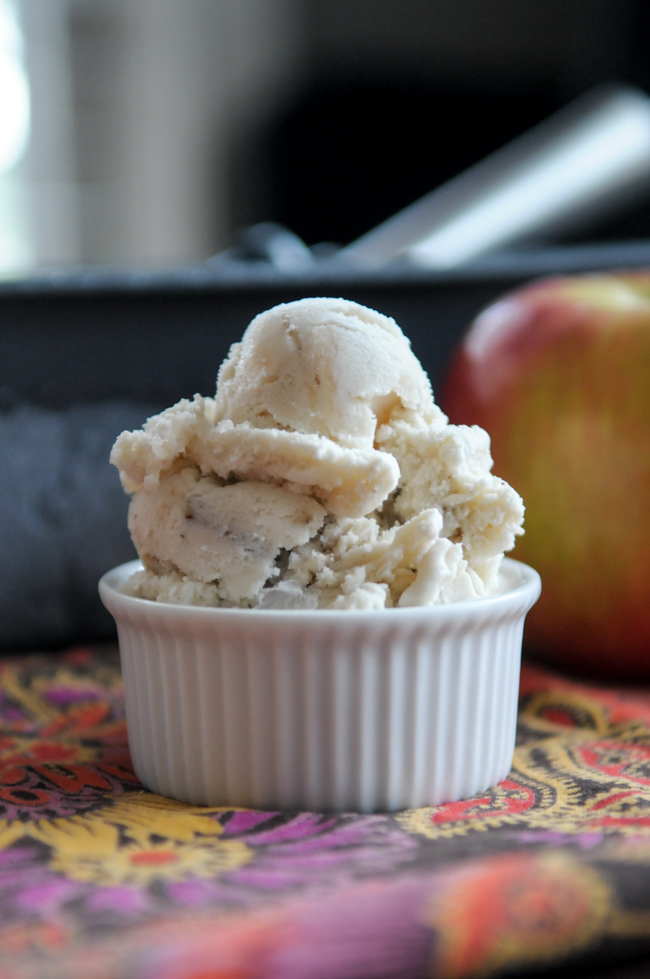 by Arkansas Women Bloggers member Heather Disarro of Heather's Dish 
Two things in the food world change for me when fall arrives. First, pumpkin spice lattes dominate my mid-afternoon treats for the next three months. Second, apples are in just about everything I make. Even then I can hardly get enough of them.
Apples go with just about anything. The sweet crunch of perfect, raw specimens is such a great texture that works well in salads, on sandwiches or just by themselves. When cooked, they add a soft texture and extra sweetness to just about anything. They pair well with pork and chicken, are heaven enveloped in a pie crust, and are great for the body too. What could be better?
Beside the fact that this ice cream has sweet cooked apples threaded throughout, it's made with Arkansas cream and milk from Hiland Dairy. Locally grown doesn't always have to apply to produce, and the sweet creaminess of this ice cream is a sign of the freshness of raw ingredients.
Enjoy this ice cream with a perfect slice of pie or just a steaming mug of coffee for a fantastic dessert made from the best in the state.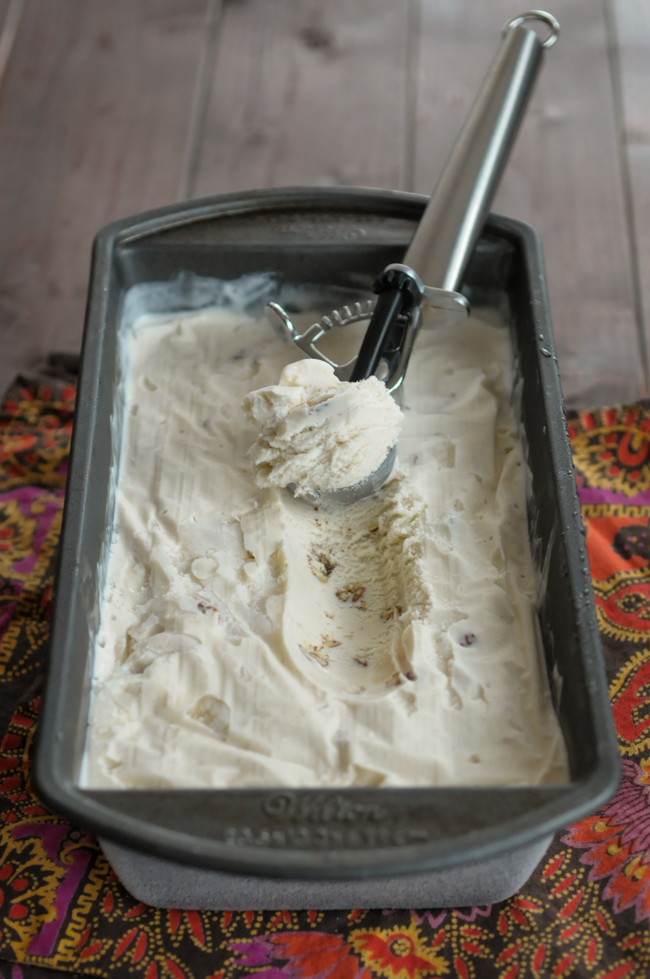 CARAMEL APPLE PECAN ICE CREAM
Makes approximately 1 quart
Ingredients:
• 2 cups heavy cream
• 1 cup 2% milk
• 1 tablespoon vanilla extract
• 3/4 cup light brown sugar
• 2 tablespoons water
• pinch of salt
• 2-3 large local apples, peeled, cored and sliced
• 1/4 cup of granulated sugar
• 1 teaspoon ground cinnamon
• 1/2 cup chopped pecans, lightly toasted
Directions:
1. First make the ice cream base by combining the brown sugar, water and salt in a small saucepan over medium low heat.
2. Whisking constantly, simmer the mixture just until the sugar has dissolved.
3. Remove from the heat.
4. Whisk in the vanilla extract.
5. Whisking constantly, slowly drizzle in the milk and cream, making sure to mix well as you go.
6. Whisk until everything is combined completely.
7. Pour the base into a glass bowl and cover with plastic wrap, pressing the plastic onto the top of the base to keep a skin from forming.
8. Refrigerate until completely cold, about 3-4 hours.
9. While the base is refrigerating, combine the apples, granulated sugar, cinnamon and lemon juice in a sauce pan over low heat.
10. Stirring occasionally, cook the mixture until thick and the apples are tender.
11. Remove from the heat and allow to cool completely before adding to the ice cream.
12. When the base and the apples are completely cooled down, add the base to an ice cream maker and churn, according to manufacturer's directions, until it is the consistency of soft serve ice cream.
13. Slowly add the apples and toasted pecans and churn just until combined.
14. Pour the ice cream mixture into a 9- x 5-inch loaf pan and cover with plastic wrap.
15. Freeze for 4-6 hours.
16. Serve cold and enjoy.
Arkansas Women Blogger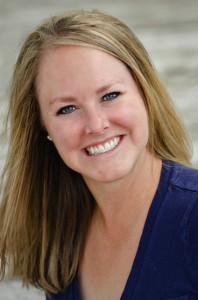 member Heather Disarro is a food-centric lifestyle blogger who is passionate about embracing the beauty that surrounds us in our everyday lives. She is a Texan living the expat life in central Arkansas with her husband, son and two massive dogs. Heather writes her blog, Heather's Dish, from an office filled with dust, dog fur, toys and plenty of love, grace and music. She revels in the opportunity to bring the love of cooking to the world as a way to love others well!