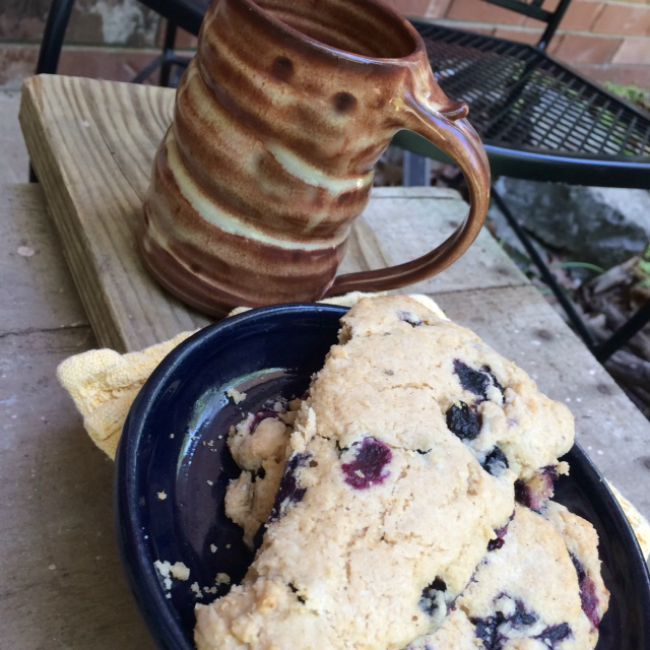 by Arkansas Women Bloggers member Rhonda Franz of CaptainMom.net
Blueberry scones are a delicious summer treat. While we do love Scrumptious Pumpkin Scones in the fall and Raspberry White Chocolate Scones with Raspberry Butter for our sweethearts on Valentine's Day, the freshness of Arkansas Grown blueberries this time of year is a delicious treat. A hearty breakfast food, baby shower delight or a simple gathering of friends, they are versatile and delicious. They're great as a midnight snack, too.
An important element of this recipe is the white whole-wheat flour, the ideal compromise between straight whole-wheat flour and white, all-purpose flour. You can use just all-purpose flour, but you'll miss out on the slightly grainy and earthy texture the white whole-wheat mixture offers. Fresh berries and cold butter are also important. Be prepared with ingredients and a ready cooking sheet or baking stone to allow for as little handling of the dough as possible. Grate the butter before cutting it into the flour mixture.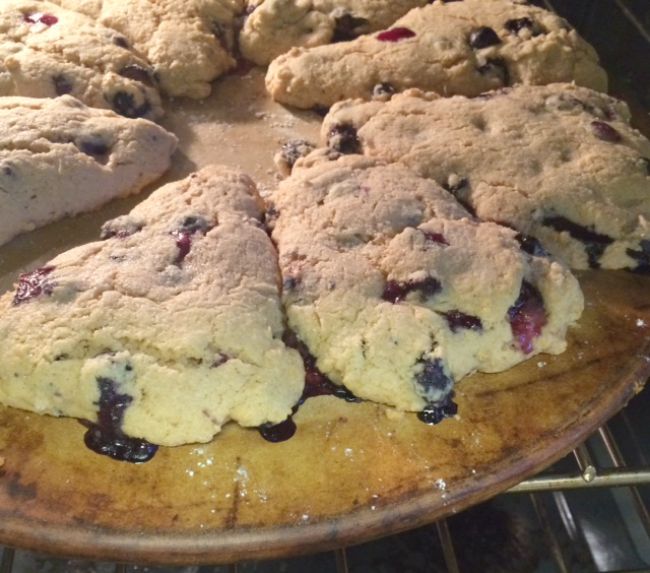 BEST EVER BLUEBERRY SCONES
Prep time: 45 minutes
Serves: 8
Ingredients
2 cups of white whole-wheat flour + about a ½ cup all-purpose flour for rolling out dough
1 tablespoon baking powder
½ teaspoon salt
⅓ heaping cup granulated sugar + a little extra for sprinkling
¾ cup (1½ sticks) chilled butter, grated just before using.
about 2 tablespoons butter for melting and brushing
½ cup buttermilk *
1 tablespoon vanilla extract
1 heaping cup fresh blueberries
Instructions
Whisk together flour, sugar, baking powder and salt.
Cut in chilled butter using a pastry cutter or food processor (pulse several times).
The mixture should be the consistency of coarse crumbs. It will resemble light brown sugar.
Add vanilla extract to buttermilk and mix.
With a spatula, fold buttermilk mixture and blueberries into the flour mixture
Turn out the dough (it will be somewhat wet) on a floured surface. Use a rolling pin to roll the dough and your hands to form it into a circle about ½ inch thick.
Cut the dough into eight wedges using a sharp knife or pizza cutter.
Using a flat spatula, transfer the scones to a cooking sheet lined with parchment paper or baking stone. If you're using a round baking stone, try transferring the whole batch of dough onto it before cutting. The slices can then be gently pulled back from each other to allow room for spreading and rising.
Brush melted butter over each scone and sprinkle sugar on top.
Bake at 375 degrees for 20-25 minutes until lightly brown on top.
* When you don't have buttermilk on hand, mixing lemon juice or white vinegar with milk is a decent substitute. Add two tablespoons of the juice or vinegar to measured milk to make ½ cup liquid altogether, and let sit for 8-10 minutes while preparing the rest of the recipe.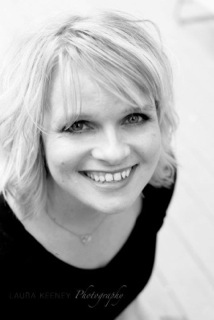 Arkansas Women Bloggers member Rhonda Franz is a freelance writer, licensed teacher, home operations specialist, and domestic chef. She combines her professional background and mommyhood experiences to write on family, parenting, cooking, and education. You can read more about her at captainmom.net and rhondafranz.com.