Who doesn't love bacon? The bacon from Petit Jean Meats is definitely a favorite of mine. If you enter and win the big giveaway (details here) you could get a Deluxe Gift Box from Petit Jean Meats. The gift box will have your very own package of bacon included and a couple other great prizes. Go enter to win! But first, check out this simple, delicious recipe for Bacon Wrapped Red Potatoes.
Did you know that there are more than 350 pork-producing farms in Arkansas?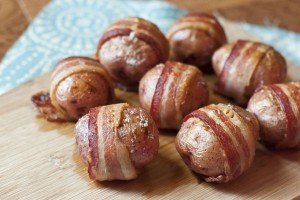 Ingredients
8 red potatoes
8 slices of Petit Jean Meats' bacon
1 tablespoon olive oil
Salt
Instructions
Preheat oven to 400 degrees. Wash potatoes gently with cool water, then dry.
Rub the outside of potatoes with olive oil and kosher salt. Pierce potatoes a couple of times with a fork. Then, wrap with bacon and secure with toothpick.
Place on cookie sheet and bake for 30 minutes or until potatoes are tender and bacon is starting to get crispy.